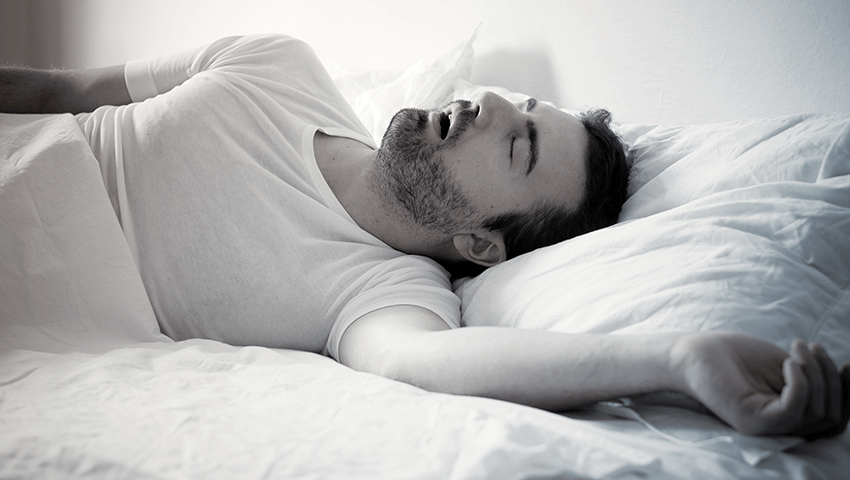 What is Obstructive Sleep Apnea?
Let's start by understanding that, in general, sleep apnea refers to the halting of breathing during sleep. There are two types of sleep apnea. One is called central sleep apnea, which is caused by a malfunction in the brain, where it "forgets" to breathe. This type of apnea is very uncommon and happens without snoring, mostly in babies and the elderly. A more common type is obstructive sleep apnea – which means the back of the throat collapses in on itself while breathing in, usually due to an obstruction in the area.
We breathe by sucking air into – and pushing air out of – our lungs through our throat. Breathing out is always a positive pressure, and the throat is pushed open. When we breathe in, however, we create a negative pressure. The throat is generally able to hold itself open for this, but when the muscles in the upper throat relax during sleep, the tissues close in and block the airway. As the obstruction gets worse, more negative pressure needs to be created. When the suction is too negative, the throat collapses in on itself.
You may develop snoring and/or obstructive sleep apnea if there is obstruction in:
Your nose: this could be from a deviated septum after breaking your nose, polyps from long-standing hay fever or just large tonsils.
Your palate: most people have a small palate but you may have inherited a large one which is getting in the way of breathing.
Your tongue: when you sleep on your back, your jaw moves back, moving your tongue into the space you are trying to breathe through.
Your weight: as you put on weight, the deposits of fat in the throat area make the whole tube narrower. This is most prominent in men, who tend to put weight on in the chest and neck area, as opposed to women, who deposit fat around the hips.
If the apnea is mild, or if there is just snoring without significant apnea, tackling these physical obstructions may relieve the pressure and help breathing return to normal. For example, removing your tonsils, using a special mouth guard to hold your jaw forward, and losing weight can all reduce the number of times you stop breathing at night.
However, if the apnea is severe – more than 15 apneas per hour – these measures may not work, and treatment with nasal CPAP is required.